Outreach – the Galashiels experience
Fiona Munro took part in the Galashiels Outreach group facilitated by Borders Independent Advocacy Service as part of the Care about Rights project.
"The Care about Rights training was suggested to me as part of my college studies in Social Care and voluntary experience.
"Since participating in the group, I have been appointed as an Advocacy Worker for BIAS, a new post funded by the Change Fund. The job involves awareness-raising on the role of advocacy with professionals such as NHS staff, care home staff and support workers. We are planning to use some of the scenarios in the Care about Rights resource pack as the basis for discussion with support workers on how human rights law can assist in the care and support of all vulnerable people in the community, including older people.
"My experiences on placement have been that far too often investment in long-term, quality training does not always filter down from management to delivery level in care homes. The Care about Rights scenarios will be a good way to help me extend the learning from the Galashiels outreach group to a new audience. For example, human rights will now be incorporated into the training for all new volunteer advocates at BIAS.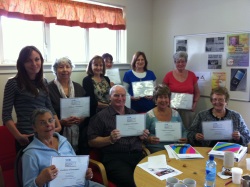 "It's been a few months since I completed the training and I have had to keep reminding myself about some of the detail we covered during the sessions and refer back to the resource pack. But, the key messages about proportionality and taking a human rights based approach is common sense and consistent with everything to do with the personalisation of care - particularly Article 8 ECHR (respect for private and family life) in preventing 'blanket' policy-making where individual choice is at risk – so it does all join up.
"I think the next step must be to include human rights in the monitoring, and crucially reporting, of isolated, but distressing, cases of abuse or neglect in the system.
"And in other aspects of my life, I have been thinking back to the human rights training; even just watching the news on television now prompts me to think about things differently.
"When you're studying at college, there are lots and lots of National Care Standards to become familiar with but there is really only one over-arching care standard and that's the Human Rights Act. This should underpin everything we do as volunteers, and professionals, regardless of where or with whom."